Donna Harke- Owner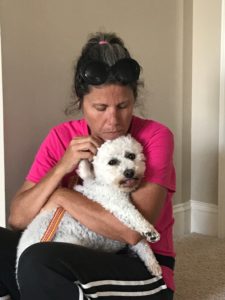 I have always had a passion for animals and I feel so fortunate to be able to tell people that I have the best job on earth! I think I owe my love of animals to my father who was a wildlife biologist. Growing up we had dogs and cats, and I remember wanting to bring every little creature I encountered (turtles, frogs, crayfish, etc.) home with me. These days, my furry family includes three cats, Tabitha (14), Iddy (8), and Oliver (8), my dog Hawkeye (10), and two chickens, Dixie and Goose. If I had more room, I would have pigs, cows, and goats.
I started Comfy Critters eight years ago with the goal of providing the highest quality service that caters to every need of my clients' pets. It can be stressful to both pet and parent when going out of town. I am always striving to build bonds with your pets and make them feel at ease and secure. I want my visits to be enjoyable and engaging for your pets. I have experienced just about everything you can imagine in my eight years and take pride in giving my clients the peace of mind that their furry family members are in the best of hands when they are away.
I am so fortunate to have the best clients in the world, and in order to maintain the high standard of care that you have come to expect from Comfy Critters, I am thrilled to be able to expand our team with a group of petsitters that are equally as passionate about animals as I am!
Kelley Vasaturo- Sitter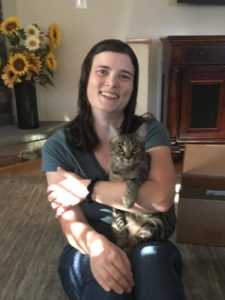 I moved to the triangle from Massachusetts 12 years ago and have fallen in love with my new home. I love the diversity of the area and meeting people from all over. The weather is great too (I don't miss the harsh New England winters!) and there is so much green space – infinite dog-walking options!
I have always loved animals, the companionship they bring, and how they each have their own unique personalities. My first pet was a cocker spaniel that my family got when I was 6 years old. Later on in my childhood I had two beagles. When I got married, I knew pets would be a part of our household. We started off with two cats. Then we took in a Shiba Inu – a fun, but challenging breed of dog – from a family member that needed to rehome her. We currently have three rescue cats, a Russian Blue, a Chocolate Point Siamese, and a Snowshoe Siamese. We are a cat family primarily due to one of my family member's dog allergy, so getting to take care of my client's pups is another reason why I love petsitting so much!
Kim Diaz- Sitter
My family and I moved to Fuquay Varina a year and a half ago and we absolutely love the town and the people. I have always had a passion for helping animals, ever since I was a child. I was constantly rescuing dogs, cats, and small wildlife that I found. As an adult, I have been very fortunate to be able to work with all types of domestic and exotic pets. I have been involved in rehabbing wildlife for 11 years and I was a veterinary tech for 4 years in South Florida before my daughter was born. I have worked with bears, panthers, otters, large birds like eagles, and small song birds and small mammals like squirrels and opossums.
I love being a petsitter and dogwalker because it allows me to play and interact with animals outside of a vet office. Most of the time in an office setting, pets are usually scared or not feeling well and there is not enough time to interact with the pets one on one. I so appreciate being able to spend time with pets in their own setting.
Marianne Nance- Sitter
I am a full-time nurse with 10 years' experience working with the geriatric population in Durham. I love my work and being able to care for my patients.
Another passion I share with my husband is that we are both committed to animal rescue. I've always had animals in my family growing up and we currently have three of our own – two dogs and a cat – but our long-term goal is to be able to make our home a place to take in rescued animals and help rehabilitate injured and abandoned animals after we retire.
In the meantime, I love being able to help others care for their fur babies and getting to walk and play with them! Their safety and happiness are always my number one priority!